Who we are

Do you need a place to rest, ask, and make friends? We are right here for you! Around 400 international students and scholars at the College of Engineering love the Welcome Center as their cozy place to lean on.
The Welcome Center was established in March 2017 to improve the standing and situation of foreign nationals and promote diversity at the College of Engineering. We provide one-stop services, cultural events, industrial field trips, and Korean classes for CoE international students. We are your resource not only on academic and immigration matters but also on personal problems you might face in your every day lives in Korea.
We look forward to welcoming and getting to know you better!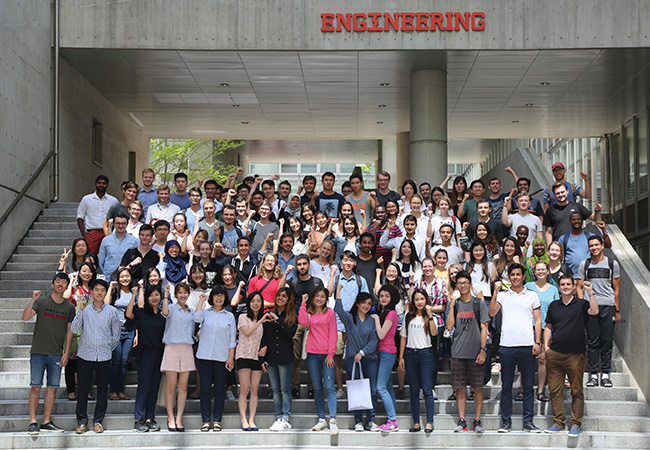 ---
250
Undergraduate
+
Graduate Students

2018 Academic Year
CoE@SNU

100
Visiting
+
Exchange Students
---
Personal stories


My name is Miona. I come from Serbia, and I am a master student of Technology management, Economics and Policy here at the SNU College of Engineering.

Openening of the Welcome Center was one of the best things that happened for international students here because we got a spot where we can have a small break from studies, meet other students, and get help with any issues we might have. It's a cozy place that makes us feel welcome and comfortable. The ladies and students working there are amazing, always friendly and always helpful! They help us have a sense of community as they organize different events where we can both learn and have fun.

Without the Welcome Center the student lives of international students wouldn't be the same.


My name is Chemutai Joyce, a graduate student from the republic of Kenya currently studying International IT Policy Program (ITPP) in the department of Technology Management, Economics and Policy Program (TEMEP), College of Engineering at Seoul National University.

What I love the most about the International Students Welcome Center is the presence of friendly and welcoming staff members who are always there to assist in different ways. The center has a very conducive environment for networking.

Through the center, I have made many friends from diverse backgrounds. I would encourage all the international students to feel free to visit the center and explore the place, enjoy the free snacks, drinks and more so the Korean tea.