SNU Department of Industrial Engineering Professor Park Hayoung Says "Growth of Biohealth Depends on Ecosystem Cultivation"
Writer : 관리자|Posted : 18.03.26|Total views : 91 reads
SNU Department of Industrial Engineering Professor Park Hayoung Says "Growth of Biohealth Depends on Ecosystem Cultivation"
- Emphasizes the Revision of Regulations on Technological Innovation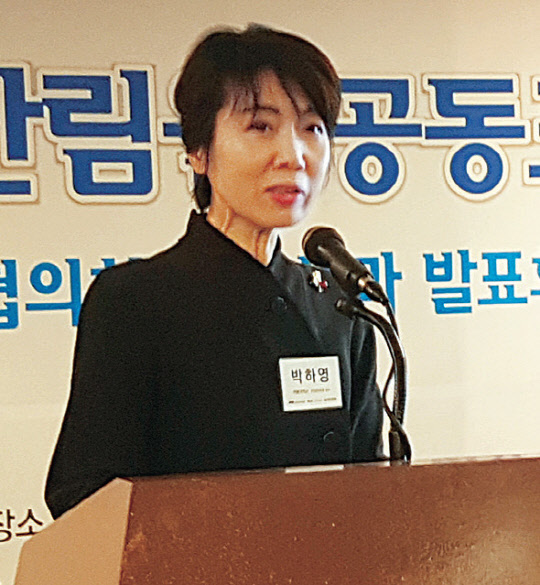 ▲ SNU Professor Park Hayoung Making a Speech on 'Challenges and Tasks of Korea's Biohealth' at the 'Korea Three Academies Joint Symposium'

Although the biohealth industry of Korea is showing some advancements, analysis denotes that complex ecosystem issues are obstacles to pass for a consistent growth.

At the 'Korea Three Academies Joint Symposium' held on 18th at Korea Press Center in Jung-gu, Seoul that is co-hosted by the Korean Academy of Science and Technology (KAST), National Academy of Engineering of Korea (NAEK), and National Academy of Medicine of Korea (NAMOK), Professor Park Hayoung (Department of Industrial Engineering) spoke on the topic of 'Challenges and Tasks of Korea's BioHealth'.

Professor Park pointed out four issues of the nation's biohealth industrial ecosystem including: organizational culture and policies that impede merging and sharing; vulnerability of the subjects of industrial ecosystem; R&D investment scale and efficiency; and size and attractiveness of domestic market. In a nutshell, the lack of government effort and cross-departmental communication hinders resolution of conflicts and improvement of social commercialization for stakeholders.

In addition, Professor Park criticized the absence of a company that can lead open innovation and the scarce number of companies, research laboratories, and universities that even possess innovation capability. The current R&D investment scale is largely behind those of multinational pharmaceutical corporations and the domestic market only occupies 1.2% of the entire pharmaceutical market. Thus, Professor Park called for the need to retain a differentiation strategy from leading industrialized nations like USA, United Kingdom, and Germany in order to secure competitiveness.

In order to resolve the issue of stagnation in the domestic biohealth industry, Park stressed for the establishment of a 'Special Committee on BioHealth' under the Presidential Advisory Council on Science and Technology (PACST). This is expected to boost the efficiency of interdepartmental policy coordination. Her stance is to handle minor problems like policy refinement and conflict resolution between departments before focusing on biohealth.

Lastly, Park adds that an increase of flexibility rather than regulation in current product classification is required in response to the rise of industrial convergence due to the coming 4th Industrial Revolution. A continuous policy regulation through monitoring of technological innovation is also mandatory in order to match up with the fast-paced technological advancement.

Meanwhile proposals for policy refinement and other current societal issues like ambient airborne particulate matter, biohealth industry, and aging were also put forth at this first-ever joint symposium hosted by three scholarly associations. The 'Academic Council for Research and Policy' was established last April in response to the high need of advisory roles on comprehensive interdepartmental policies from experts of different fields in the three academies.