CoE Int'l Office 2020 Video Contest
Writer : welcome_center|Posted : 20.05.25|Total views : 241 reads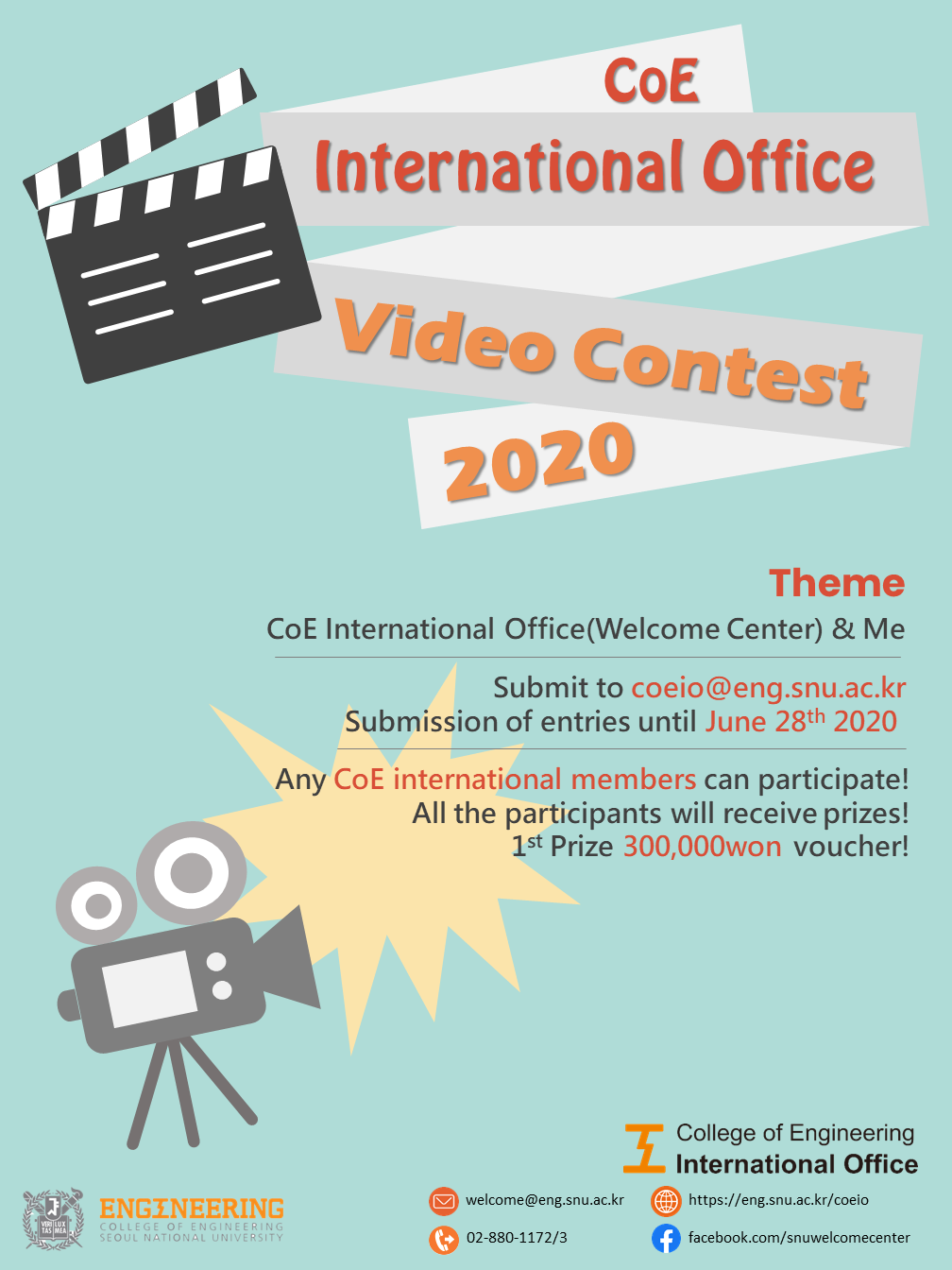 Dear International Members of the College of Engineering (CoE),

The Welcome Center has been upgraded and expanded to better support our international community. We are now reopening as CoE International Office (CoEIO)!

After a row of events cancelled due to COVID-19, this semester has been very quiet and lifeless. Therefore, while celebrating the reorganization, CoEIO has arranged an event for the last month of the spring semester. Drum rolls please. We have organized a video contest for the CoE international members! Any international members of the College of Engineering can participate and have a chance to win prizes! Moreover, the award-winning videos will be used for promoting CoE and International Office.

If you would like to register, please read the Details section carefully.

Are you too shy to make a video? You can also participate in the event by voting for the video entries. Every CoE international member has a chance to vote for his or her favorite video. Every member who voted for the videos will receive a CoEIO souvenir! The voting period will begin on July 6th 2020 until July 12th 2020. Your vote will surely count! Winners will be announced on July 13th 2020.

Every participant will get to win a prize so don't hesitate to join!

Details
Theme
CoE International Office (Welcome Center) and I

Recommended format
1-3 minutes, English, 1920 X 1080 (Full HD, 1080p)

Submissions
1. Complete the Application Form down below
2. Submit your video to coeio@eng.snu.ac.kr

Schedules
Deadline: July 5th 2020
Voting: July 6th 2020 – July 12th 2020
Announcement: July 13th 2020

Awards
1st place (1 team) – 300,000won voucher (aka 문화상품권)
2nd place (2 teams) – 200,000won voucher
3rd place (3 teams) – 100,000won voucher

Regulations and Notices
1. Any international members enrolled at the College of Engineering may participate
2. Materials must be original and unpublished.
3. Videos must contain at least 10 seconds of CoE International Office (Welcome Center)
4. Videos must not contain any violence nor violate any rights.
5. Any legal issues concerning portrait rights or copyright violations arising from the video submission is solely the legal responsibility of the contestant.
6. The CoEIO will have the right to post, print, publish or otherwise use the contest awarded videos for 2 years.
All of the submitted videos will be voted by College of Engineering international members from July 6th 2020 until July 12th 2020. Winners of the video contest will be announced on July 13th 2020.